I'm a child of the 90s and 2000s. I grew up thinking my hair was frizzy, but nothing I couldn't remedy with a flat iron. That was something I did almost every night before school and almost always refused to leave the house without silky straight hair.
Then, as an adult, I had a baby and didn't have the time or patience to straighten my hair. Something happened. I realized my hair was, in fact, curly. It's really, really curly actually. Thus, my journey of learning everything there is to know about curly hair care began.
And I'm going to share that knowledge with you because parents learning how to care for their child's curly hair (or their own) can be an overwhelming experience. Straight hair doesn't really have rules, but trust me, curly hair needs a little bit of "structure". Otherwise, it can quickly become wild and unruly.
Curly Hair Commandments
Put Down the Brush
I see so many parents that are desperate for help with curly hair and they say, "What do I do? Brushing isn't helping." Well, first of all, do not ever brush curly hair dry. DO NOT DO IT. Brushing while dry is only breaking up the curl pattern and adding frizz. Curls like to stick together in their "clumps" and brushing them apart will only make them angry.
Instead, use a detangling brush while the hair is wet (sopping wet is usually better). You should brush it while it's coated in conditioner, something the curly community calls "seaweed hair" because it's slippery and the curls rope together like pieces of seaweed.
Then, scrunch in water to rinse. Don't rinse it all out under a cup or shower stream. The idea is to scrunch water in while squeezing the conditioner out.
Ditch the Sulfates
Sulfates are cleansing agents and the reasons your shampoo lathers into big bubbly suds. Some curlies use sulfates sparingly, but when you're just starting out on your curly learning journey, it's best to eliminate them at first.
Find a sulfate-free kids shampoo product and go from there. Give it a few weeks and determine if the hair is getting too greasy after a couple of days. If it's still pretty oily, find a gentle lathering shampoo.  As a general rule, you shouldn't wash curly hair every day or even every other day. Shoot for 3-4 days between washes and remember that you're training the hair. Your scalp will overproduce oil if it's getting washed too often. Once you start cutting back, the hair won't be as oily.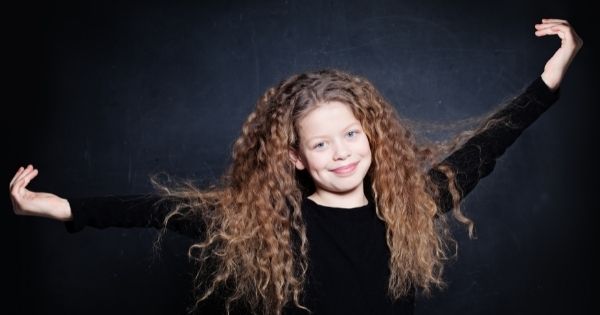 Ditch the Heat
Resist the urge to use curling irons or flat irons on your little one's hair. Even if you think you can just tame a few pieces, try not to. Heat breaks down the cuticle and damages the shape, which is extremely important for curly hair. The idea is to protect the strands and let them do their thing while you try to enhance and preserve the shape.
If you need to use a hairdryer, use minimal heat and always use a diffuser. You can also "plop" the hair beforehand to take out some of the moisture while preserving the curl pattern. Plopping is basically wrapping the hair in a t-shirt or microfiber towel and letting it sit there for a few minutes. Regular towels are not ideal. They encourage frizz and rustle the curl pattern.
For little girls, it's usually better to air dry when you can!
Moisture
This refers to conditioner AND water. Yes, regular water.
Remember when I said to scrunch the water into the hair while conditioning? Water is almost more important than any product you can use. It's sometimes helpful to keep a spray bottle ready when styling and spritz the strands when you see frizz developing.
Additionally, use a leave-in conditioner after washing. Use "praying hands" and smooth the product over strands without separating the clumps you just formed with water. You can also lightly rake your fingers through it.
Look for products with moisture and pay attention to what weighs the hair down, what looks crunchy, what leaves too much frizz, etc. Curly hair products are very much experimentation and generally on "baby" hair, lighter products are better. If the hair is coarse, go a little heavier with creams.
Often minimal ingredients are best. Look for natural formulas with coconut oil, shea butter, olive oil, rice protein, aloe, etc.
Protein
Curly hair craves protein, which is something you probably aren't familiar with if you have straight hair. If you have too much moisture and not enough protein, curls will be droopy and frizzy. With the right amount of protein, they spring up and form defined clumps.
Products with keratin, castor oil, or rice protein are often great contributions to curly hair routines. Additionally, you can do protein masks or rice water rinses. To do rice water rinse, you just soak white rice in water, strain the rice, and pour the clouded water over the hair after shampooing.
For evidence of how much protein impacts hair shape, watch this video from curly influencer Kristyn Joanne on Youtube:
Protect
There are two main ways to protect freshly washed and styled curly hair. Cover it or pull it up while sleeping. Curly girls (and guys) swear by covering it with satin or using a satin pillowcase. You can also pull hair directly on top of the head into what we call a "pineapple." This makes a huge difference when you're trying to stretch wash days.
For younger kids, though, protective hairstyles might be even more important. This means the curls and texture are styled and tucked away from manipulation which saves you from split ends and damaged curl patterns. Think braids and buns. Those are great styles for curly hair because they hold shape and look cute. Plus, it gets the hair away from the face and eyes which is important for kids running and playing throughout the day.
Overall takeaway, "Less is More."
Less brushing, less touching, less products! Style while wet and leave it alone. Then, watch as the hair dries into shiny, defined curls.
Also, for your style inspiration, have a look at this compilation of styles from Girly Squad on Youtube:
About The Author
Breanna Leslie – yourcub.com
I'm a former therapist turned writer. I earned a master's in psychology in 2015 but ultimately decided I'd like to be more present for my family. Currently I'm a stay-at-home mother of two toddlers (with another baby on the way). I enjoy writing in the parenting and home/DIY niches. I also write fiction and have been published in a handful of literary magazines and a fiction anthology. In my spare time, I enjoy blogging, painting, running, and drinking an absurd amount of coffee!