Are you worried you'll lose your patience before the child learns to hook the bait? Here are tips for teaching your kids how to fish.
Fishing, in my book, is not simply a sport for adults who want to relax and commune with nature. It also gives parents a chance to bond with their children and teach them a lifetime skill.
Now, I understand it can be hard to make them see the value of the activity too early. Some may whine or just want to run around the dock without listening to your instructions. But have faith, pal – they all come around eventually.
In case you need tips for teaching your kids how to fish, check out the following ideas.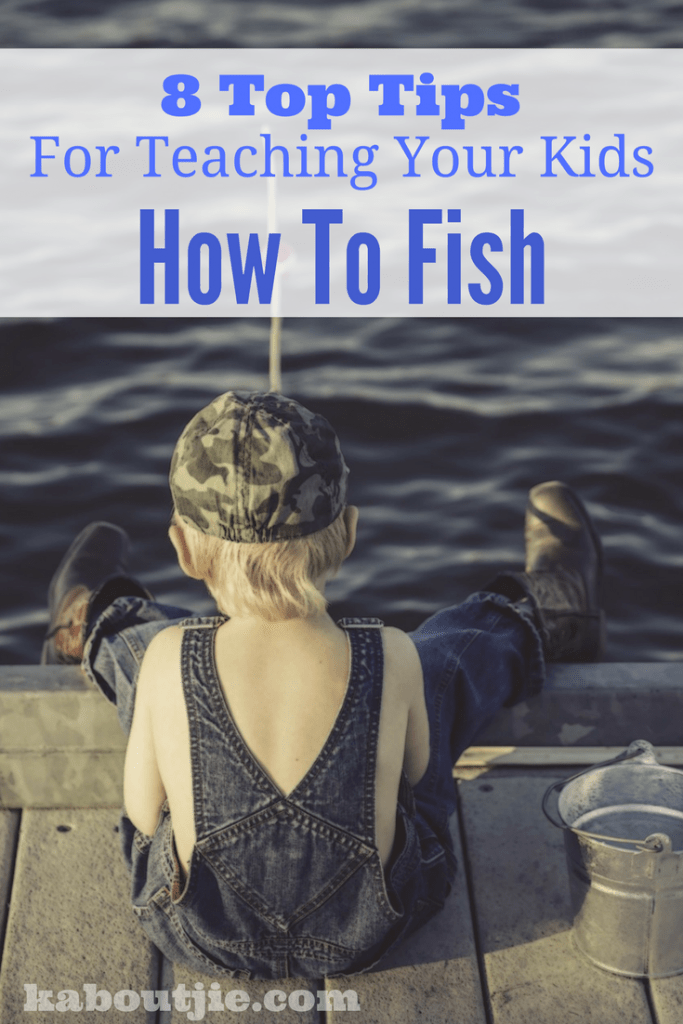 Tip #1: Look for a spot with an abundant number of fish.
The initial suggestion before you embark on a fishing trip is to search for areas that have plenty of fish. The main point is that they need to see that it is a fun to catch them. Those children will not realize that if they're sitting on the same spot for hours with no fish biting the bait.
Although taking the kids to the sea may sound inviting, there's no guarantee that there'll be many when you come. Hence, you may as well check that off your list.
The place should not immediately be too far from home so that they can rest up fast. If a park, a lake, or a steady stream is near you, that's just perfect. Should you require further suggestions, the fishing stores may be able to help you.
Tip #2: Go out when the weather's nice.
With the activities that your offspring may participate in, there can only be certain days when you're free to bond. Still, tune in on the news so you should know if the weather condition on the chosen place is favorable.
In case the heat increases, your child may complain about sweating and get sunburnt. For sure, you don't wish for the rain to dampen what's supposed to be a stimulating trip either.
Nevertheless, the phenomenon that's scarier compared to both is the strong winds. As you're surrounded by nature, the kids may witness the tree branches breaking due to heavy gusts. Even though these won't essentially touch them, the incident may discourage them from going back there to fish.
Tip #3: Focus on the youngsters 100%.
It is great that you like to share your fishing skills to your babies at a young age. Despite that wonderful idea, they should find it exciting themselves, not only because you said so. This will definitely not occur once they notice you're more engrossed to fishing by yourself than teaching them.
What you can do to prevent that is to leave your equipment behind the first time they go with you. This way, it's easy for you to converse with the children so they won't feel bored. Bringing a camera isn't necessary, yet you may want to add this event in your family's photo album too.
Tip #4: Make the fishing gear simple at first.
Are you dreaming of handing down your fishing equipment to your little boy or girl? Well, that may not happen as early as you wish.
There are a couple of reasons for that. The first one is that the child may be too small to pick up a speargun or a rod. The other reason is that they may not know how valuable those gifts are at that age.
Can you purchase equipment for fishing according to their specifications then? Yes, that is possible; however, only do that when you're certain they want to continue catching fish as a hobby. Kids can be fickle-minded, after all, and you'll waste your money in case they start ditching the activity.
Thus, the solution is to improvise initially with a wooden stick and other accessories. Then you can think of getting the real deal for them after that.
Tip #5: Limit the fishing duration.
Children don't really like to hold a fishing pole and stay still all day, especially not the hyperactive ones. So, one of the tips for teaching your kids how to fish is to keep track of the time.
Assuming it is the first lesson, you can spend a full hour outdoors to kind of test the waters. See if the child liked the activity enough to come back another day. In case they do, you may extend the duration for 30 minutes or an hour tops.
It will not be feasible to go beyond that timeframe, no matter how much interest they showed in the beginning. That may make them find fishing exhausting and won't want to do it again.
Tip #6: Invite other kids to tag along.
Would you like your child to become extra interested in fishing? Well, you should look into asking their friends to come and turn it into a group activity.
Although that's your son or daughter, children tend to do what other kids do. In case one of those little tykes is highly curious about marine creatures, the rest may show curiosity too. By the time you start giving out fishing rods, everyone may become excited to wait for the fish.
It also helps that there are same-aged people for them to chat with. They can talk about toys, school, or books and won't mind being near the waters for an hour or so.
Tip #7: Allow them to actively participate.
Among the tips for teaching your kids how to fish is to let them prepare their own gears. Children of the new generation, after all, love to feel independent in their special ways. Giving them the opportunity to do things with a bit of guidance from you will mean so much to them.
Ask right before getting off the car which items they can carry to the fishing spot. Ideally, the children will hold their equipment, so you can bring the cooler where the caught fish will stay.
It may be awesome to have different live baits too so that the kids can choose the one they like. When it's time to fish, you may also teach them how to hook the bait and cast the line. This way, they get a sense of responsibility and may wish to know more about fishing.
Tip #8: Exercise patience and persuasiveness.
Since you are teaching your kids, you probably are aware of how attentive they are to brand-new stuff. If they love to run around and always get distracted by other stuff, just let them be for a while. After some time, you may be able to coax them to sit down and learn fishing.
In Conclusion
Did you catch all the tips for teaching your kids how to fish? They can be quite a handful, for sure, but may prevent you from giving up halfway through the first lesson. Besides, it's much better to know them now so that you can set your fishing plans before the D-day.
Good luck on training your future fishermen (and women)!
Which advice helped you teach your kids how to fish the most? Kindly drop your comment below.
---
About The Author
Harry Wilson the author of this blog post is founder of   Sportslifestyle360.com. He has had complete experience with sports. The main purpose of his blog was to be able to connect with others like him,  all around the world, and share his passion and love for outdoor activities.
---