You must have heard about the instant pot appliance by now and if you haven't then here's what you need to know. An instant pot is a multi-cooker appliance that can be used to cook your food in a variety of ways including slow cooker, pressure cooker, steamer, rice cooker and more. This means that you can cook just about anything that you can think of in this versatile cooking appliance.
Due to the fact that this appliance can do so much it may feel a little bit intimidating taking it out of the box and getting started with it, however it is actually quite simple to use once you get into it. Find some reviews to help you figure out how to use your instant pot – get an Instapot update here.
Here's why you want to buy an instant pot for your kitchen: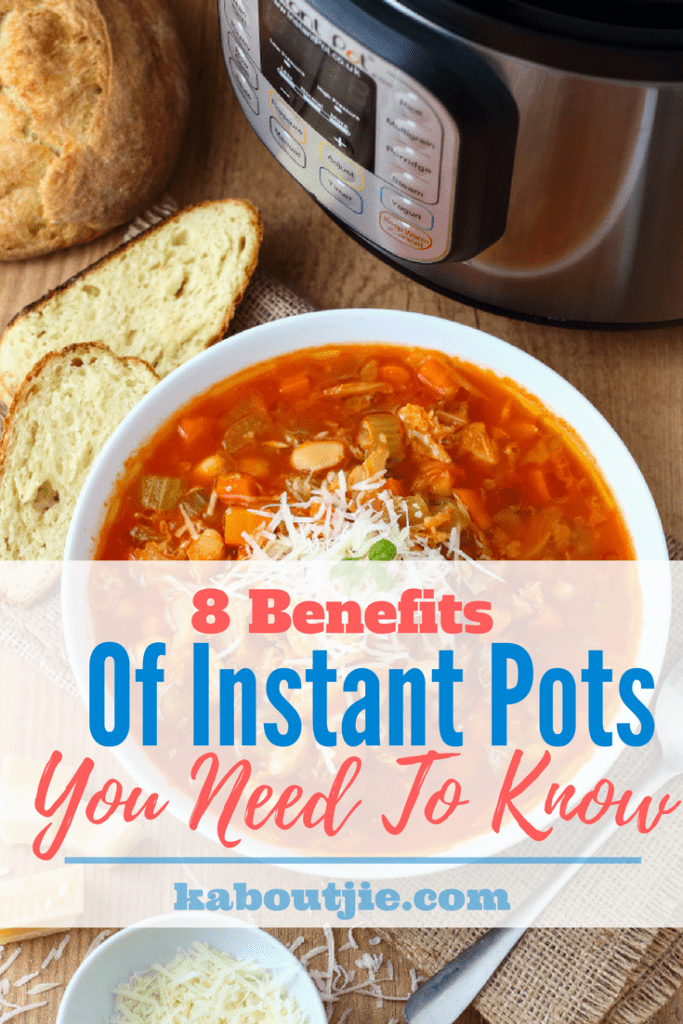 Instant Pots Are Versatile
Instant pots have multiple uses and ways of cooking which may just make this the most used cooking appliance in your home. Just remember that not all instant pots are created equal so some will have more functionality than others. You will need to research the different makes and models to decide on the one that will do what you want it to do.
Most instant pots come with the following basic settings:
Pressure Cooker
Slow Cooker
Steamer
Rice Cooker
Sauté/Browning
Warmer
Yogurt Maker
Aside from these basic functionalities some may come with other options such as a cake maker or egg maker. Make sure to read plenty of reviews and guides to find the instant pot that will suit your needs – see here
Cooks From Frozen
If like me you always forget to take food out of the freezer to defrost then this is going to be a big time bonus for you. The instant pot can cook food that is frozen without a problem! You can put frozen fruit and vegetables into the instant pot and it will defrost it and then cook it perfectly for you.
One Pot Cooking
I'm not sure about you but one pot cooking really appeals to me! Cooking everything in one pot saves on time and effort when it comes to cleaning, preparation and monitoring your food. It also means that everything is ready at the same time, you don't have to try and coordinate everything so it is ready at the same time.
Cooking To Perfection
The instant pot will cook your food to perfection quickly and without you having to constantly monitor it. Your hard boiled eggs will come out perfectly, your rice will be fluffy and perfect (not dry or burned) and your casseroles and stews will be tasty, tender and just the right consistency.
Cooks Quickly
Foods that may take you 30 minutes to cook will take you just a few minutes to be cooked and if you are making bone broth which could take a few days to make you can have it ready within a few hours instead.
Nutritious and Flavorful
Due to the fact that foods are not immersed in water or oxidized through being exposed to air while being cooked the foods retain most of their nutrients, vitamins and flavor. When using the pressure cooker function the heat is distributed evenly and only a small amount of water is used to generate steam.
It Is Safe To Use
Many people get nervous when they hear "pressure cooker" however while pressure cookers back in the day may have been cause for concern the instant pots of today go through vigorous testing and comes with many safety features including automatic lid lock and lid detection which makes it impossible to open the lid before all the pressure in the instant pot has been fully released. It also comes with automation automatic temperature control which keeps the temperature inside the instant pot in a safe range all the time.
It Is Simple To Use
Yes it may look confusing to start off with when you look at all the functions, but it is actually very simple and easy to use when you get stuck into it.  There is also a lot that you can get done on the manual setting so once you master using the manual setting you are on your way to making plenty of delicious dishes in no time.
These are some excellent reasons to go out and get an instant pot for sure, just remember to keep the following things in mind:
Cook Times In Recipes
The cook times that you see in recipes can sometimes be deceptive due to the fact that it only refers to the actual time to cook, not the entire time it takes for food to be ready from the time you put it into the instant pot. The instant pot also needs time to heat up and build pressure, as well as to release it when the food is cooked.
When you set the timer for it to cook the timer does not start until the correct pressure has been reached. This time it takes to each pressure will depend on a number of things such as whether the food is frozen or fresh, how full the pot is and how much liquid is used.
Buy Extra Seals
Keep in mind that the seals wear out and also seals can absorb the odor of your food. This means if you cook a curry and then want to cook a cake next you could find the curry odor wafting into your vanilla cake which is not ideal. For this reason many people buy extra seals so that they can use one seal for certain foods such as curries to avoid this happening.
Seals also wear down and when this happens you won't be able to seal your instant pot properly which will effect how it cooks your food.
Buying a few sealing rings when you purchase your instant pot is a good idea.