A strong core is important for everyday life, from a better posture, less propensity to injuries, to even better  sports performance. If the thought of getting into shape makes you groan because you think the gym is the only place to get it done, think again.
You don't have drive or fork over a cent to get strong, lean and toned. Many simple workouts require no costly equipment either, while one or two may require a dumbbell and exercise mat. In particular, yoga is especially great for beginners who want to ease into a fitness routine, due to its gentle nature and low barrier to entry. Different poses in yoga target different parts of the body, and there are poses that specifically target your body's core.
Benefits of a Strong Core
better at any movement – enhances sport performance
minimizes injury
muscle- and bone strengthening
you look more attractive
prevents lower-back pain -improves mobility and strength
supports upper body – less strain on the pelvis area
keeps waistline slimmer to avoid health risks
stronger breathing muscles and better breathing
decreased risk of pregnancy complications
5 Yoga Postures that Target your Core
The following 5 excellent yoga poses will tone and strengthen your body's core, relieve stress and ease tense muscles. It can be practiced easily at home, on a mat or even just on the carpet.
Side Plank Pose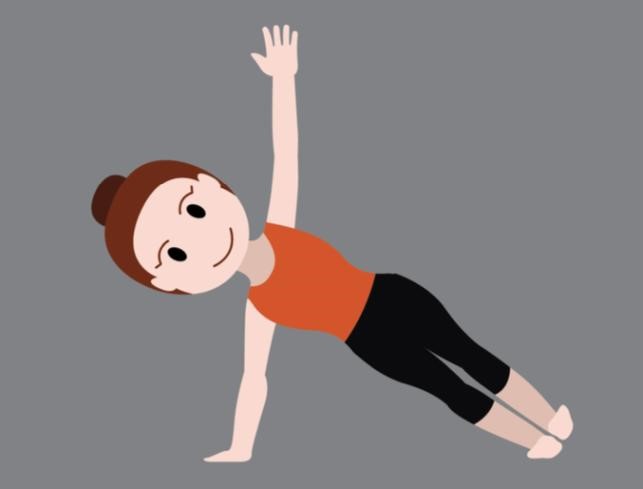 Begin on all fours. Stretch back into the heels. Move shoulders forward over the hands. Now shift your weight onto the right arm and hand. Roll onto the outer edge of the right foot. Lift left arm, extending it upwards, turning the head and body to face out. Bring left foot and leg on top of the right. Lower left arm and leg to come out of pose and repeat on the other side.
Side Reclining Lift
Lie down on your left side. Raise your right arm straight out along the floor and above your head. Right arm should be at a 90˚ angle to your body. Lift head off the floor and support it with the palm of your left arm. Right arm should rest on the side of the body. Bend right leg, reach for your big toe, holding it with the thumb and first two fingers of the right hand. Exhale and stretch the right leg towards the ceiling. Hold this position for a few breaths, releasing slowly. Repeat for other side of the body.
Chair Pose
This is a standing yoga posture that tones the entire body. Bend your knees, taking the thighs as parallel to the floor as possible, with the torso leaning slightly forward so that the front torso forms a right angle with the tops of the thighs. Keeping the inner thighs parallel to each other, press thigh bones down toward the heels. Firm shoulder blades against the back, taking tailbone (coccyx) toward the floor, keeping lower back long. Keep the hold for up to a minute long and then straighten knees and release arms to your sides.
Plank Pose
Begin on your hands and knees. Place wrists directly under your shoulders and your knees under your hips. Inhale and draw your torso forward until the arms are perpendicular to the floor. Press outer arms inward, firming shoulder blades against the back. Spread them away from the spine. Press front thighs up toward ceiling. Lift the base of the skull away from the back of the neck, looking down at the floor for up to a minute if possible.
Happy Baby Pose
Lie on back and bend knees into stomach. Breathing out, grip outsides of feet . Open your knees slightly wider than your torso, bringing them towards the armpits. Position ankles over the knee so shins are perpendicular to the floor. Push feet up into your hands as you pull hands down to create a resistance.
Engaging Your Core While Sitting
If you simply don't have to time to exercise, a more passive way to target your core and promote good sitting posture to boot is through the use of an kneeling chair. These chairs have been around since the 1980s, though have seen a resurgence in popularity due to the ergonomic benefits that people have come to realize from them. The design of kneeling stools cajoles your body to sit in an upright position that's ergonomically beneficial while at the same time strengthening your core.
Take a look at Ergonomic Trends for a list of the best kneeling chairs to consider based on your body size and use case.
Conclusion: 
Pain, stiffness and aching in the back, neck and shoulders can limit movement and make everyday activities difficult. If you lead a busy life, you can't allow strains and pain to slow you down. The stronger your core, the less energy and effort you'll need to put into movements to perform tasks
Our ultimate goal should be to make the core muscles as strong and stable as possible. The stronger your core, the less effort you'll need to do everything else in life. Getting off your chair and getting active has other benefits too such as boosting your blood flow, your mental health and your life expectancy.