It's a real headache to organize things because people are too busy with school and work. But it doesn't mean you can't face the challenge. Do you have additional makeup cases or cosmetic bags?
You probably have a few spare makeup cases as a part of a gift of a limited edition lipstick or makeup set. What are you planning to do with those tiny extra makeup cases? You can collect them and upcycle them in a fun way.
Put them into good use by checking these unique and quirky uses of cosmetic bags: 
Tech Accessories Pouch
One alternate use of makeup cases is a tech accessories pouch. Here are the benefits of having a dedicated bag for your gadget accessories:
Say goodbye to disorganized and scattered chargers, USB cords, earbuds, cables, and other tech gadget accessories because you can convert your cosmetic bags into a tech bag.
No more detangling and wrangling wires knot every time. Quickly find what you need, most especially if you're always on-the-go. 
Medicine Organizer
Makeup cases come in different shapes and sizes, so they are great organizers. You can keep your medicine in cosmetic cases, most especially if you have a handful and you need to always carry them with you when traveling.
Here are the things you can store inside a makeup case for medical purposes:
Pills and tablets kept on small makeup cases
Anti-asthma puffs and nebulizer kept on large makeup cases
Glucose meter and glucose strips to check your blood sugar
Sphygmomanometer to check your blood pressure 
Rare Item Pouch
You probably have a few old coins, key chains, and other miniature collection pieces scattered around the house. Why not gather them in your spare makeup cases?
You'll be surprised how useful cosmetic bags are and the number of rare items you can store inside. If you have time, take photos and list them on eBay to earn extra bucks. 
First-aid Kit Bag
Store some medicines, Band-aid, a small bottle of alcohol, povidone-iodine solution, cotton swabs, gauze, and topical antibacterial cream in your spare makeup cases.
You can quickly grab it when you're going on a vacation, nature tripping, or even a picnic in the park. It's always good to be ready than sorry, most especially if you have kids with you or if you're pregnant. 
Store Your Care Products
Are you tired of looking for your hair ties or lotion in your bedroom or small apartment every time? Get organized and keep your personal care products inside your makeup bag.
Here are the personal care items you can store inside it:
Feminine products
Ponytails and hair clips
Lotion, cologne, perfume, and deodorant
Shaver, razor, tweezers, and nail cutter 
Cell Phone and Gadget Pouch
Keep your phone, iPod, GPS device, and other gadgets inside your spare makeup cases. There are many cool designs and styles to choose from that will suit your fashion and lifestyle.
Whether you have Apple, Samsung, Huawei, or any other brand of gadget, protect them when it's not used by storing them in current makeup cases. Cosmetic bags are great organizers when you're going on a business trip or family vacation too. 
Store Dainty Items
Traveling bags don't have a dedicated compartment to store your bras and panties.
Think outside of the box, and you'll find makeup cases as fashionable storage organizers for your swimsuit bras and panties, as well as a scarf, fabric caps, ties, and handkerchief. Keep your private things discreet by storing them on elegant or cute makeup cases. 
Storage Pouch for Your Car
You may find a lot of scattered items inside your car like small children's toys, bottle opener, nail cutter, comb, and flashlight among others.
Keep them safe and secure by storing them on makeup pouches. It will save you time looking for them underneath the driver's seat, dashboard, and seat compartments. 
Store Hair Care Products
Young girls and ladies love to fix their hair. If you're one of them, you probably experienced losing a hair cream, comb, or hair clip somewhere. Organize your hair care items inside a makeup case, and you can easily find them when you need a hairdo. 
Keep Your Fashion Accessories
Whether you're a college student or a young professional, you probably have a handful of fashion accessories here and there.
Organize your fashion accessories such as dangling earrings, statement rings, charm bracelets, and necklaces on cute makeup cases so you can easily find them when you need to accent your outfit.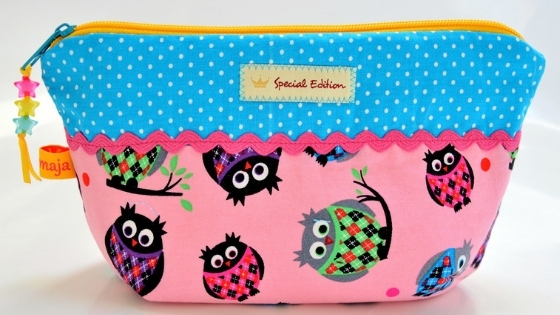 Store Small Hardware and Art Craft Items
If you're a hardware fanatic, someone who loves to work with home improvement, woodworking, or art crafts, you can store your materials and supplies on makeup cases.
Here are some examples:
Paper clips and thumbtacks
Staple wires
Small nails and screws
Compass and ruler
Hooks, nuts, and bolts 
Store Home Decors
You can keep old miniature home decors inside makeup cases for future use. Keep them safe while waiting for the perfect time to sell them on a garage sale or online.
Here are some examples:
Figurines
Wedding giveaways
Small jewelry boxes
Convert to Cute Clutch
You'll find adorable and elegant makeup cases that you can confidently use as a clutch. Take it to a nighttime party with friends, to attend a concert, a recital, or a special event. Slim bags or cute pouches are perfect for keeping or storing your cell phone, cards, cash, compact powder, and your lipstick. 
Store Your Sweets
If you're always craving for something sweet after a meal or when you're stressed out, you can easily grab a bar of chocolate, bear gums, or candies inside your makeup case. It conceals the real content of the pouch to minimize your Snickers and M&M's attracting your kids. 
Gifts and Giveaways
Makeup cases are also perfect as giveaway gifts or as packaging for special celebrations. Surely, the recipient of the gift will feel special with the bonus of receiving a nicely-packed gift. Spice it up  and make it more special by putting it inside a beautiful makeup case.
Conclusion
Makeup cases are not just for your cosmetic items like lipstick, foundation, eyeshadows, and concealer. There are many alternate uses of makeup cases, and you'll never run out of a good reason to collect them.
As great organizers, makeup cases can save you so much time and effort looking for easy-to-lose items. Keep your small things and belongings inside and have peace of mind to find them easily.