Browing around Amazon I came across 12v kids electric cars, the most gorgeous little motorized cars for toddlers and children. My immediate feeling was OMG I want one for my kids! If you are planning on buying an extravagant gift for your toddler then this has got to be it.
While I love gifts that are educational and promote outdoor play and physical activity, every now and then something comes along that does not fit into those categories at all.
Check out the Kids Ride Wild blog for great reviews on ride on cars.
Here are reasons why you would want to buy a 12v electric car for your toddler
Huge Wrapped Gift
When you get this and you gift wrap it can you imagine the look on your kids face when he or she sees the size of the gift? You will see your kid hopping with excitement when given this gift.
Part of the fun of getting a present is wondering what is inside and unwrapping it.
Coolest Gift Ever
Seriously, a ride on car for a toddler has to be the coolest gift around. Your toddler will be the envy of every other child and will never forget this gift. When your child is older and thinks back this will most likely be the most well remembered and loved gift of all.
I'm not sure how your kids feel about cars but my 5 year old daughter is already planning how she can drive my car for real and my 3 year old son loves sitting behind the wheel pretending he is driving while fiddling with everything he can find.
Teaches New Skills
It may not be a particularly active thing for your child to do, but it is more involved than sitting in front of the tv for example. In addition to this your child will be learning how to control the car which will help with your child's coordination skills, spatial skills and more.
Learning how to handle the 12v kids car will take some time and this in itself will be a learning experience for an impatient toddler that wants everything right now.
Teaches Responsibility
You can show your child how you take care of your car by doing chores like washing it and putting it away properly. You can also teach your child about charging the ride on car.
Learning how to take care of important things is also a great skill that your toddler can learn. Your child will also need to learn the rules of when, where and how he or she can drive inside and outside of the house.
Quality Gift That Will Last
An electric kids car is a quality gift that will last a long time, unlike so many cheap plastic toys that often don't even last a day before breaking and being thrown out.
This is a toy that will not lose its appeal for your child, it will be used often and it will last a long time. When your child has outgrown it you can then sell it to someone else since it will still have good value if it has been looked after.
While a 12v electric kids car may seem like an expensive gift if you think about all the small things you buy throughout the year that often don't last it may be better to buy a more quality gift once and leave out all those unnecessary purchases during the year. Quality over quantity goes a long way.
While there are loads of toddler ride on cars to choose from here are my two favorite picks from Amazon:
Frozen Ride Car
This little Frozen Jeep Wrangler ride on car is gorgeous and I know every little girl would love this. This Frozen ride car looks great, has doors that open and close plus loads of  storage area in the back for your child to load all her special Frozen gear in.
It even comes loaded with Frozen songs which is such a lovely finishing touch to make this a special ride on car for a girl.
It has 310 customer reviews on Amazon with a 4.5 star rating. It is a Fisher Price product which is a great brand so this is sure to be a great buy.
Ride on Car For Boys
This Jeep ride on car for for boys by Fisher Prize is perfect for any little boy. There are loads of types of ride on cars for boys, but my son always prefers the jeep type cars more than the sleek looking Ferrari ride on car.
This Jeep Wrangler has ample storage space in the back just like the Frozen Jeep Wrangler.
It has 143 customer reviews on Amazon with a 4.5 star rating.
How To Choose A Ride On Car For Your Child
Size And Power
The first thing you need to look at it is the size and the power of the ride on car. If you are buying it for a child up to 3 years old you should consider buying a 6v single motor car.
If your child is 3 -5 years old then a 12v electric car with dual motors will be best. This will give your child enough speed but will also provide stability.
For an older child you can look at more power and mobility with an electric car or quad bike that will still drive on more uneven surfaces.
Battery Life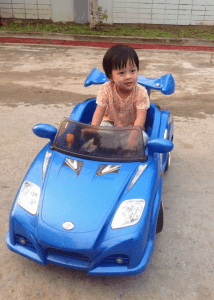 This is going to be a biggie since if your child drives the electric car for a couple of hours the battery will then need to be fully charged and this could take a long time. You will want to choose an electric car that has a good battery life, as in the amount of time it takes for the battery to be worn down when driving in addition to how many years the battery will last before needing to be replaced.
Keep in mind that over time the battery may start lasting shorter periods of time before needing to be recharged and then need to be charged for longer periods.
So when reading customer reviews pay careful attention to what customers have said about the battery.
Two Seater Or One Seater
If you have two children and you buy a one seater ride on car you are heading for trouble.
However if you buy a two seater ride on car you need to consider the ages of your children, will a younger child passenger try and jump out while the car is moving?
What Surface Can The Electric Kids Car Drive On?
Some kids electric cars can drive on carpets, hard surfaces and grass as well as tackle slopes with ease. Some kids ride on cars are not able to cope with much and will only drive on your carpet.
Assembly
Some items state they are easy to assemble but they aren't really. Once again read the reviews to ensure that you are able to easily assemble it rather than finding out the hard way when it arrives.
Product Guarantee or Warranty
Before buying any product of considerable value it is imperative to check under what conditions you can return the product if you are not happy with it or if there are any problems with it.